The Performance Horse
When he was four years old Windfall was placed by his owners, the Diehm family of Germany, with the daughter of the late Olympic gold-medalist Reiner Klimke. Ingrid Klimke had ridden several of their young stallions quite successfully (Starway, Grand Prix) and was emerging as one of Germany's top event/dressage riders. Over the next four years the pair took the German combined training world by storm. They scored forty wins and placings, including national Young Horse championships, a professional rider championship (in which Windfall was used for all three phases), and wins at all the CIC**s and CIC***s held there in 1999. In fact, in 1999 as a seven-year-old he was elected Germany's Horse of the Year (all breeds, all sports) by the readers of the prominent magazine, Reiter Revue. Although he was short-listed for the German team for the Sydney Olympics in 2000, he did not travel because Ingrid Klimke was selected to compete on another Diehm-owned horse, the thoroughbred gelding Sleep Late.
In late 2000, the Diehms sold Windfall to Tim Holekamp, with the understanding that Darren Chiacchia would campaign him in the US and that he would be kept intact for breeding purposes. That plan has been followed with considerable success. Over the last five years Windfall has emerged as the most prominent advanced level eventing stallion in the world. At the end of 2005 the USEA announced that he is the sixth highest ranked eventhorse of all time in the US, and by far the highest ranked stallion of any breed of all time. His dressage performance has been without equal. At virtually every venue he has won or placed in the top three in that phase, at times besting the most successful event horses in the world. As a show jumper he has been consistent and accurate, rarely pulling rails. On cross country he was initially distractible, as most stallions are, and time has been needed to get the consistent top runs of which he is capable. That aspect has come up to the desired level beginning in the fall of 2002 with his fifth place finish at Fair Hill CCI***.
| | |
| --- | --- |
| Year 2001: | |
| North American Beaulieu Classic (CIC***) | 4th place |
| Groton House H.T. (prelim) | 1st place |
| Over the Walls Horse Trials (advanced) | 1st place |
| Year 2002: | |
| Rocking Horse H. T. (advanced) | 1st place |
| Poplar Place Horse Trials (advanced) | 9th place |
| North American Beaulieu Classic (CIC***) | 2nd place |
| Virginia Three-Day & Horse Trials (prelim) | 1st place |
| Stuart Horse Trials (CIC**) | 1st place |
| Over the Walls H.T. (Nat'l Adv. H.T. Championship) | 3rd place |
| Morven Park Three-Day & Horse Trials (advanced) | 2nd place |
| Fair Hill CCI*** | 5th place |
| Ended the year ranked sixth best horse in the USEA | |
| Year 2003: | |
| Rocking Horse H.T. (advanced) | 1st place |
| Pine Top Horse Trials (advanced) | 1st place |
| Red Hills Horse Trials (CIC***-W) | 2nd place (best US pair) |
| Poplar Place Farm H.T. (advanced) | 2nd place |
| North American Beaulieu Classic (CIC***) | 9th place |
| Foxhall Cup (CCI***) | 2nd place (won 3-star Ch.) |
| Wayne H.T. (advanced) | 5th place |
| Over the Walls H.T. (advanced HT Ch) | 2nd place |
| Stuart H.T. (CIC**) | 1st place |
| Five Points H.T. (advanced) | 10th place |
| Fair Hill CCI*** (Pan Am Ch) | 1st place (Ind. Gold Medal) |
| Year 2004: | |
| Rocking Horse Winter II H.T. | 4th place |
| Red Hills H.T. | 1st place |
| Poplar Place Farm March H.T. | 1st place |
| Kentucky Three-day Event (Rolex -- Modified Division) | 1st place |
| Olympic Games, Athens, Greece | 12th individually (Team Bronze Medal) |
| Year 2005: | |
| Rocking Horse Winter II HT (advanced) | 1st Place |
| Red Hills CIC***-W | 2nd Place |
| Chatsworth CIC*** | 4th Place |
| Rolex CCI**** | 2nd after dressage, WD after steeplechase |
| Year 2006: | |
| Rocking Horse Winter II HT (advanced) | 2nd Place |
| Red Hills CIC*** W | 13th Place (broken rein on xc) |
| Poplar Place HT (advanced) | 6th Place |
| The Fork CIC*** W | 1st Place |
| Rolex CCI **** | 1st after dressage, retired on xc |
| Virginia Horse Trials (intermediate) | 1st Place |
| Jersey Fresh CCI *** | 1st after dressage, withdrew after xc |
| Groton House II HT (adv/int) | 2nd Place |
| Stuart Horse Trials CIC** | 1st Place |
| Year 2007: | |
| Rocking Horse Winter II HT (advanced) | 1st Place |
| Overlook Farm - Pegasus Derbycross (team) | 1st Place |
| Red Hills HT CICW*** | 3rd Place |
Windfall has continued to improve his dressage abilities, scoring as high as 80% on the FEI Four-Star test (at Rolex 2006), which would fall somewhere above the Fourth Level test scheme. Several FEI dressage riders have expressed an interest in competing him. In January, 2006 the USET three-day-eventing team's new dressage coach, Robert Dover, coached Windfall and the next day rode him and then announced to the spectators at the winter training camp in Ocala that not only is Windfall capable of Grand Prix dressage movements but that with a few months of training him he could have him excelling at that level.
His show jumping form is without fault. George Morris coached him at the USET winter training camp in 2003 and 2004 and was extremely complimentary. Darren took him to the Ocala HITS too, entered him in four or five large Level Five jumper classes and won money in every one. Prominent hunter rider/trainers have expressed great interest in acquiring him. His Pan Am showjumping round was picture perfect.
His soundness through what has now become nearly ten years of very demanding competition has been remarkable. When he was purchased the consulted Dutch veterinarians marveled at his soundness, given the four years of nearly constant work in upper level eventing. The USET team veterinarians examined him after Foxhall CCI*** in April, 2003 and passed him "with flying colors." Although he developed a sore left fore ankle at Athens , which came back to plague him at the Rolex CCI**** in 2005, extensive veterinary examination has not found any lasting injury or disability. He has had not required any therapeutic surgery of any kind throughout his life, until at age 15 he fractured a splintbone in March, 2007, the distal end of which caused tendon problems sufficient to require surgery to remove it in April and several months of rest from competition afterward.
His feet are excellent and he has had no farrier "issues" whatever. No unusual bitting or saddle-fit matters have arisen. He is not difficult to keep in good nourishment and condition.
The Trakehner Breeding Stallion
There are many things that one might like to know about a horse being considered for use as a breeding stallion, with the opinion of an inspection committee being only one. Experienced breeders may have strong opinions about the parameters described below. Mare owners just venturing into breeding might not think of all these matters. This description is meant only to reflect our opinion of what is important.
Windfall was bred by a small-scale but passionate breeder in Germany named Heinz Lembke, who owns his famous mother Wundermaedel xx. She is the daughter and granddaughter of two of the top steeplechaser producers in Europe and was herself quite successful both in racing and eventing. Approved as a "Trakehner mother" by the Trakehner Verband, she has achieved the lofty status of Elite Mare in the Verband studbook. Out of 110 thoroughbred mares approved to produce "purebreds," she is one of only three who are ranked Elite.
Born in mid-April of 1992, Windfall was thought to be a gangly youngster, but soon grew into himself. He had the double advantage of living his first half-year in peace and quiet on good pasture at Lembke's, and then after weaning was moved to a much "busier" place. He was purchased by the biggest and most famous Trakehner eventhorse breeding station in the country, the last home of his father Habicht, the Diehms' Gestuet Hoerstein, near Frankfurt. There can be no doubt that many stallion prospects develop personality difficulties as a result of early isolation from other horses. On the larger farms in Germany, bands of colts of a given age are pastured together and allowed to interact freely. This was the advantage that Windfall enjoyed at Hoerstein, along with expert handling by the master of stallions, Dirk Joerss. Herr Joerss tells the story that on the day of his arrival at Hoerstein he was put into the barn with the other weanling colts at feeding time. He promptly chased every colt from his feedbin and proceeded to eat some of every colt's lunch! And he has been doing the same to nearly all eventhorses he comes up against in competition ever since.
Then in 1994 he was selected to be examined at the main stallion approvals (Koerung) at Neumunster along with 75 other colts, the cream of a thousand-colt crop. To make a long story short, he was approved as one of the five premium colts, the only one with a half-thoroughbred background. He was sold at open auction for a princely sum the next day back to his owners, who wisely chose not to part with him then.
A fairly short breeding career produced numerous excellent young prospects, some of whom have gone on to achieve great things. For example he has the excellent son Hunnenkoenig, who was selected for the Koerung and is now with a Grand Prix dressage rider. And the daughter Karisma is a Verband Premium mare who excelled in her performance testing. His most successful son so far is Karambeau M, who won the South German Young Horse Eventing Championship.
The opinion of experts there was that his best foals came from thoroughbred and anglo-Trakehner mares, though experience on this continent since 2001 has made us wonder if perhaps he did not get enough chances with purebred mares. When he started eventing it was decided that he would not be used at all for breeding, due to the risk of role conflicts leading to distraction. Thus the last four years of his time in Germany he did not breed.
But upon coming to America his life changed quite a bit. We knew that for him to have the career he deserved it was necessary to use him for both tasks, and we have. His first year he was bred to nine mares, who produced nine healthy foals, all of whom have been adored by their owners. In 2002 he bred 19 mares and settled 17 of them, all by transported fresh cooled semen. There can be no doubt that this practice has led to additional conflicts for him, but he and Darren have persevered and his performance in both roles has steadily improved. When he is at Brendan Furlong's veterinary clinic, one female technician collects him without assistance, using a phantom mare. At competitions he does not in any way harass mares, even when nearby. He seems to have learned to separate his jobs.
His offspring are remarkably uniform. Essentially all show his type so clearly that they may be easily identified in a herd. All are dark (bay, brown/black, and black) and most are a bit taller than their mothers. He tends not to add "chrome" (white markings), but does not suppress it either. In our observation Windfall is a definite leg-improver and excellent top-line producer. His foals seem all to possess strong but very tractable personalities. No undesirable heritable traits have emerged.
A very important observation here in the U.S. has been that the contention that he is better crossed with Thoroughbred mares is wrong. There are a half-dozen Trakehner breeders with Windfall foals from purebred "old-blood" mares who insist Windfall has, if anything, refined the foals. We have seen this same in our own foals.
The Personality
Of great interest to mare owners should be the features of a stallion's personality. Windfall reminds everyone of the equine persona created in the film "The Black Stallion." He is remarkably calm off the competition field, yet not at all a puppy dog; he remains quite aloof from everyone except Darren. This is not a horse that is found with his head in the back corner of his stall. Instead he is virtually always in full awareness of his surroundings, reaching out very far to assure his own security and dominance, and not just at home, but everywhere. He comes to a visiting human, but not ever aggressively, only in an observational way. While he tolerates petting very well, he never seeks it. It seems to us that he is above all that.
His barn manners, or "aisle manners," are the best. Safe to be near, he does not shirk from catching, grooming, or tacking. Intensive veterinary care does not seem to even phase him. Biting and kicking are not issues whatsoever, he just does not do these things in human interactions. Trailering with other horses of all genders is trouble-free and routine for him, perhaps because he has done so much of it. He leaves his stablemates boldly and without complaint. He is sufficient company for himself at all times. All who handle him would agree that the word "noble" applies to this horse. Nearly everyone who comes to see him in person is struck by his beauty and charisma. His sire Habicht was very like him.
And yet this horse is in no way lacking in stallion type. When he alights from a van the first thing he does is vehemently announce his presence, and then always checks to see if there might be a challenger to battle. When not in tack he sometimes postures in such a way that we feel confident that he would quickly destroy all rivals if the occasion arose. His libido is more than adequate.
One feature that has been an additional task for his rider is his high interest in his own security and safety, especially on cross-country. More aware than most upper level horses about his surroundings while at a full gallop, Windfall has taken quite a bit of time reaching the level of trust with Darren where he can be concerned about a specific obstacle's safety and yet still go to it boldly when signaled to do so. This is not about scope or agility, as anyone who has watched him negotiate some of the most challenging combinations of terrain and jumps in American eventing can attest. He sometimes "sees" things differently and can worry about features other horses ignore: the crowd, the landing zone, and so on. Darren has much experience eventing stallions and believes all this is about his stallion nature. Once committed, he goes. Every time, no matter what, no matter if scrambling is needed or recovery from a stumble or launching from a near-standstill. He goes.

The Pedigree
| | | |
| --- | --- | --- |
| | | Lapis (Shagya) |
| | Burnus AA (bay) | |
| | | 68 Fenek V AA (Kisber) |
| Habicht (black) | | |
| | | Goldregen |
| | Hallo (black) | |
| | | Handschelle |
| | | |
| | | Kaiseradler xx |
| | Madruzzo xx (brown/black) | |
| | | Madonnina xx |
| Wundermaedel xx (dark bay) | | |
| | | Celadon xx |
| | Wunderbluete xx (bay) | |
| | | Wunschtochter xx |
As one can see, Windfall is exactly one-fourth "pure" Trakehner, having only one grandparent tracing back to East Prussian Trakehner bloodlines. What is curious is that he scored high in Trakehner type and produces very good type in his foals. This is said to be partly due to his mother's remarkable type and partly due to the very strong influence coming down from the mare Handschelle, who was a member of the elite black mare herd at the mainstud Trakehnen. These mares tended to produce big, heavier-boned horses that were prepotent in type and very successful cavalry remounts. Of course crossing such a line to an anglo-arab would fit right in with the two centuries old breeding traditions at Trakehnen.
And in this case, that anglo-arab was the extraordinary sire Burnus AA, who came into the breed under protest from some because of his Kisber side, but left without anything but the highest praise. All German warmblood breeds that accepted him benefited enormously from his ability to improve rideability and performance. His name is found in the parentage of very many of the top-performing Trakehner horses in modern times. Burnus was identified early in life as a superior three-day prospect and was ridden by Reiner Klimke on the national German team very successfully, before being retired early to breed, after an injury. He sired four sons approved for Trakehner breeding and many very successful riding horses, not just Trakehners but also Rhinelanders and Westfalians.
The famous photographer Felicitas Tank once remembered: "I wanted to take pictures of Burnus while freejumping and I was adjusting my camera when I heard a crashing sound. Burnus had smelled nearby mares and had jumped the 2 meter fence [six and a half feet!], landing in the top of apple trees. I was expecting the worst, but found him perfectly sound and happy with his girls. Just with a silk scarf I led him back to the barn." Burnus died in 1980 at the age of 32.
His most famous son was Habicht, out of the big black mare Hallo, who herself had a very successful career as a sporthorse in north Germany. Habicht was said to be unattractive and lanky as a two year old and barely passed inspection. But he went on to win his 100-day performance test and become one of the best three-day horses Germany has produced in modern times. Two injuries to his rider, Martin Plewe, both unrelated to Habicht, were the only factors that kept him from the 1976 Montreal Olympics and the 1978 World Games in Lexington. They won the CCI*** at Achselschwang and in 1977 were the best German pair at the Burghley CCI****. Habicht died after a freak injury and leg fracture soon after his 25th birthday. He has established the most prominent warmblood eventing dynasty in the world, mainly through his sons Windfall, Sixtus, Parforce, and others. His descendants are known like a mantra in Germany. All sports are represented. The most prominent young dressage horse in Germany until her tragic accident recently, Renaissance Fleur TSF, was a strongly Habicht-influenced descendant. Here in the US, names like Martini, Peron, Livius, Feuertaenzer, Stiletto, Mahon, San Remo, Sonset's Sieger, Sinatra, and many others are familiar.
Habicht was often used as the ideal jumper model in demonstrations in Germany, noted for his perfection in front leg elevation, willingness to jump, and bascule.
One ought not to leave this family of horses without mentioning the Shagya Arabian from Hungary, Lapis. Near the end of World War II Lapis saved the life of a German cavalryman named Walther Schmidt-Salzmann after the German Army was defeated in central Russia, by carrying him home over 6000 kilometers (3600 miles) across devastated winter-frozen land, with often nothing to eat but straw. Lapis not only held up, but arrived home in good physical condition and went on to become a great breeding sire. One may speak of proven performance in sport horses, but this is another level of proof entirely. The rarest of blood is the Shagyas', and it is this type of excellence that engenders the fanaticism found in their aficionados. The prepotency of Shagya genetic influence is expressed in the old German breeders' adage: "One drop of this blood in the bucket is enough."
Much of the story of Wundermaedel xx has already appeared above. She was born in Bavaria in 1979. Her sire won the St. Legere in 1971 and was second in the German Derby. In the mid-80's he was ranked top steeplechase sire, as was his father in the mid-70's. Kaiseradler also sired Patricius xx, who in turn sired the Grand Prix winner and elite Trakehner stallion Van Deyk (who has eight approved sons) and another Grand Prix horse, Goldino (who has three approved sons). Not a bad line of dressage descendants for a racehorse!
Wundermaedel raced nine times as a three-year-old with one win and five placings. When at age five she was inspected by the Trakehner Verband she received the dream score of 10 for type. She went on to event with wins and placings up to advanced. She has produced one great event horse after another. Her daughter Windspiel (by Hyalit) was "Trakehner of the Year 1997" and was the best German-bred horse at the Luhmuehlen CCI*** the same year, finishing seventh. Every colt Wundermaedel produced was selected for the Neumuenster stallion inspections, five colts in all.
At age fourteen, Windfall's competition story is now mostly told, but he has a little more to do. We believe that breeding stock is more valuable when performance proven and he has had the opportunity to show his worth. Now it will soon be time for his foals to carry on the tradition started by Lapis.
Windfall Update, November 2007
Windfall Misses Pau CCI**** Due to Minor Injury
After nearly a whole season of near-perfect preparation for a four-star in the far south of France at Pau at the end of October, Windfall flew to Amsterdam about ten days early to train with Darren at his student's farm nearby. A few days later he came out of his stall with a sprain of his right fore ankle from unknown cause, a joint that had previously not had any problems. Despite therapy, he did not recover to the level of soundness we felt necessary in time for the lorry trip to Pau and thus did not have a chance to show his worth this season.
It was a terrible turn of events for all of us, particularly for Darren, who really felt "ready" for this one, and was derailed by this minor injury with terrible timing. As it turned out, we all went anyway, a gang of about 12, grooms, students, parents, fans and owners, and had a very nice time, but the other US horses did not take any special honors. The best performance posted was eleventh by Jennifer Wooten on her nimble mare, The Good Witch. The other three finished, which is better than half the starters, but once again, the Frenchman Nicholas Touzaint found his way to the top.
Now Windfall is already much better, but will rest for a few months and we will reevaluate his career path in February. His foals continue to impress, with two national young eventhorse champions in 2007, the best four-year-old in Canada and the best five-year-old in the US. Those started under saddle this season seem at least as good, or better.
Windfall Update, October 2007
After his last update report in June, Windfall came along exactly as we hoped. All exams, tests, and reports of his physical condition after splintbone-fracture surgery in April were the best possible. Dr. Furlong phoned glowing reports to me about his likelihood of being able to go back to full competition fitness and performance. So Darren and I laid out a plan for very gradual return to The Big Time.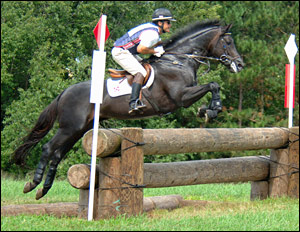 Windfall and Darren Chiacchia at the Richland Park Horse Trials in Michigan, August 2007.
First it was a simple outing at Preliminary Level at Millbrook, where he performed all tests brilliantly and was rewarded with a technical elimination when Darren sent him over the wrong fence on cross country, the second to last. Of course it was an adjacent Intermediate fence they jumped, but that still accomplished our goal, which was to see how he liked being back in action. He loved it, and came home sound.
Next was an Intermediate run at the Richland Park Horse Trials in Michigan at the end of August, where he won the dressage and ultimately the division, with a rail to spare at the end. This time there were some distractions: severe weather, mud, and one heck of a lot of "action" all around him. Not a flicker -- eager to run and jump, and again came home cool and dry in all four legs.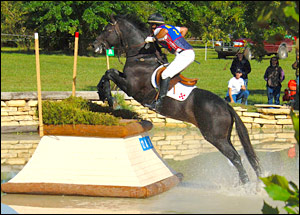 Windfall and Darren Chiacchia at the American Eventing Championships, September 2007.
Then after a little Advanced combined test at Bromont for schooling (which he won), the goal was set for the USEA's American Eventing Championships at Advanced Level at the spectacular Lamplight venue outside Chicago. We knew that this would pretty much tell the tale for the season, and allow us to decide whether or not to take a very big step in October, so a lot of mental energy was invested here. Hard to tell what happened in dressage, as he was an uncharacteristic third. But his cross country run was a work of great art – forward, stylish, smooth, clean, dingless, and exactly three seconds over the optimum time, right about where we wanted him. Two rails down in a very difficult stadium jumping course finished him second, which was just fine by us, because it showed him mentally ready for something even bigger. And once again, his legs and overall soundness are as good as ever.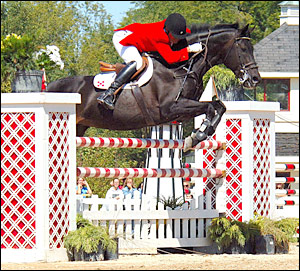 Windfall and Darren Chiacchia at the American Eventing Championships, September 2007.
Now it is time to put all concentration on the year's finale: The newest CCI four-star in the world, at Pau, France, which runs the last weekend in October. Pau is in a very interesting place, in the province of Bearn, where the Kings of Navarre lived, right at the very feet of the Pyrenees Mountains. The weather and ambiance should be magnificent and the level of competition will be outstanding, with the very best riders and horses of Europe and Great Britain likely to be entered. This will be a great chance for Windfall to display his eventing skills and poise, and we all believe that he is ready for it. The plan calls for him to fly over to Amsterdam about ten days early, train and rest up there with Darren, then van to Pau, rest a day or two and have at it. Cheryl and I will just sort of tag along like a couple of camp followers, in company with a group of other Darren/Windfall fans. Fingers crossed already, we go knowing that Windfall is ready and very willing to continue his career for a while longer. It is just amazing to watch him compete, he is so expressive that no one ever has trouble reading what is on his mind. GO!
Info courtesy of New Springs-Farms in Columbia MO , please contact Tim and Cheryl Holekamp
directly with more questions about Windfall.